Monthly Archives:
September 2022
ILCA are proposing two minor changes to the class rules in 2022.


To allow the use of heatsrink tube to bind sheets and secure shackle pins and clips.
To allow new vang cleat block units to be introduced without delay once they are approved. The current rules already allow alternative "builder supplied" vang cleat fittings.


The reason for the changes and their detail wording is Here. Yo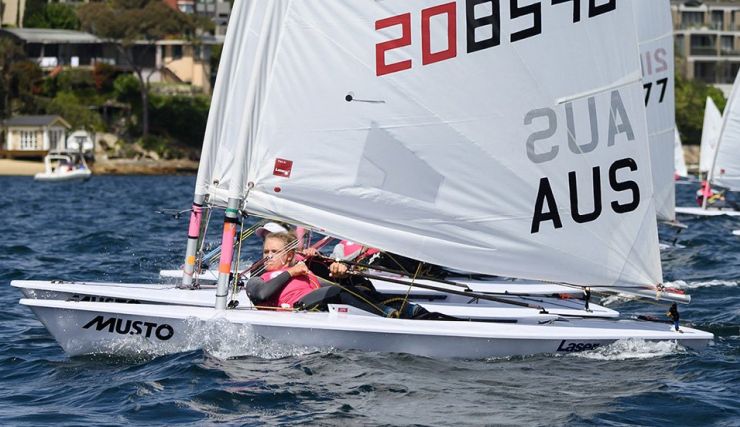 Registration is now open Here  for The Women's Regatta which will be held on Saturday 3 December 2022 at Double Bay Sailing Club.


The one day event is open to women sailors around Australia. It will include races on Sydney Harbour, great food, entertainment, and activities aimed at women of all ages who currently sail an ILCA / Laser dinghy, or are looking to return to racing.


Double Bay Sailing Club will also run a series of small-group training clinics in the weeks leading up to the event, focusing on improving sailing skills such as race starts, upwind technique, and downwind technique.


For more information go to the Double Bay sailing Club web site page Here.

The ALCA has launched a 'Youth Solidarity' program. This program is designed to encourage clubs to choose the ILCA 4 (Laser 4.7) for girls & boys transitioning from junior training classes & will be rolled out Nationally.



A similar program has been running in Europe since 2018. It is designed to encourage more girls & boys into Laser sailing via the ILCA4 pathway.



Our initial launch will be at the upcoming Nationals to be held in Sydney at GRSC. This year the focus will be on female sailors.


Each Australian Laser district (5 states + NT) will be asked to select a young female sailor to compete at the Nationals. The selected sailors will receive the following support from the ALCA:



Free entry into the championship.
Free ILCA 4.7 charter boat in race condition.
Free squad coaching during the regatta.
Free Solidarity squad T-shirt



They will be supported throughout the event by a suitable mentor & will get the chance to meet & chat with members of the Australian Sailing Team & Australian Sailing Squad.



The selections will not be limited to sailors currently in the Laser class. Female sailors considered to have potential can come from any class if they meet the selection criteria. We plan to caste a wide net advertising this opportunity to the broader sailing community.


Any enquiries about this initiative should be directed to solidarity@laser.asn.au


Application forms can be downloaded PDF Word or complete the online application form Here.


Application forms should be submitted by October 25th. Successful applicants will be notified on first week in November