Monthly Archives:
January 2023
ALCA is compiling a candidate list of coaches for Australian Teams at a Youth & U21 World Championship events.

The events and likely coaches required for 2023 is tabulated below.


| | | | |
| --- | --- | --- | --- |
| 2023 Events | Location | Dates (unconfirmed) | # coaches (unconfirmed) |
| ILCA4 Youth World Championship | Volos, Greece | Pre regatta & regatta 19-30 Jul | 2 |
| ILCA6 Youth World Championship | Dziwnow, Poland | Pre regatta & regatta 28 Jun – 9 Jul | 2 |
| ILCA U21 World Championship | Tangier, Morocco | Pre regatta TBA, regatta 15-22 October | 1 |
Coaches travel costs and fees are paid by the team and its sponsors. The team will need guidance in the leadup and supported during 12 days of pre-regatta and regatta with advice after the event.


To be considered for selection ALCA is looking for active and developing coaches who have demonstrated commitment to the class in their state. They should provide information about their coaching & sailing background, their current coaching arrangements, their experience, where they would like to apply their coaching in the future. They should submit the Expression of Interest by 10th February to Don Elks ACLA Youth Development Director by email.

The 2023 Oceania & Australian Masters Championships will be held at the Bay Sailing Centre Soldiers Point on Port Stephens 10-13 March 2023.


Normal entries ($300) are open Here. Beach entries ($350) will be accepted up to 1200 on 10th March at the venue.


Entries to 7 March are Here.


This event is a little later in the year than normal and was re-scheduled to avoid clashing with the ILCA World Masters Pattaya, Thailand 8-16 (ILCA 6) and 18-26 (ILCA 7) February 2023.


Port Stephens is our favourite venue for Masters events with great sailing winds and water and lots of accommodation in all price ranges.


The Notice of Race for this event is Here.

Charters will be available from NB Sailsports and Performance Sailcraft Australia.

Sail Melbourne run from Royal Brighton YC 14-18 January saw a talented field of ILCA 7s (26), ILCA 6s (42) and ILCA 4s (9) competing. Conditions were were described as at times character building.


In the ILCA 6s the women dominated filling the first 9 places. Hungary's Mari Erdi had four first places and won the series without needing to sail the last race. WA sailor Zoe Thompson had a great series scoring two wins including the last race in tough conditions to take second with Maud Jaynet (SUI) third.


Australian Olympian Mara Stransky finished 4th. Emma Plasschaert (BEL) who won the Oceania & Australian event had a U and a Black Flag in the series with only a single drop so was relegated to 8th place.


In the ILCA 7s the British Sailing Team's Michael Beckett and Elliott Hanson finished one and two in front of Swifto Elliott from WA. Australian Olympian Matt Wearn who won the close fought Oceania & Australian Championships two weeks earlier had a consistent start and was in second place after four races but then decided to withdraw. Matt wanted to recover a wrist injury prior to the upcoming European season in which he and the other top Australian ILCA 7 sailors will be competing.


In the ILCA 4s Riley Cantwell (SSCBC Vic) had six bullets and was an easy winner from Joshua King (Witsunday SC, Qld) and Charlie Byford (RPAYC/DBSC, NSW).


The full results are Here.
The next Oceanian and Australian Open & Youth Championships will be at Adelaide Sailing Club 1-8 January 2024. Following these championships will be the ILCA 7 Men's and ILCA Masters Worlds. There is a YouTube video promo for the big events Here and the the full list of event dates is below.


There will be a number of lead up events at ASC which will be a good opportunity to familiarise sailors with the conditions for the big championships. The full program of ASC events and the 2023 Masters is below.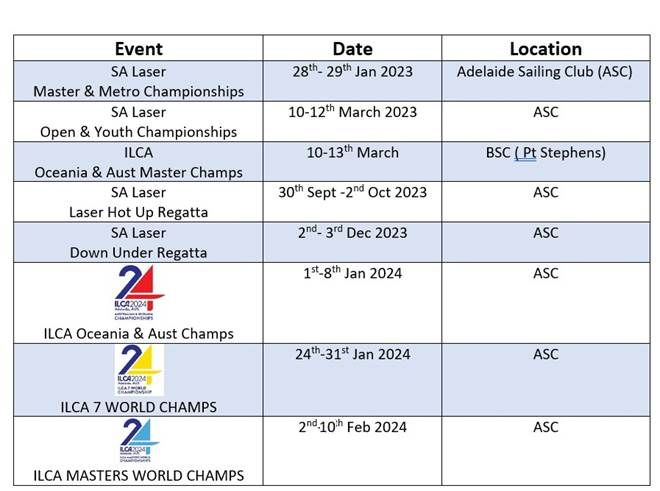 The 2023 Oceania & Australian Laser Open & Youth Championships was sailed on Botany Bay from Georges River Sailing Club. These championships were completed on Sunday 8th January.


The 180-boat event was sailed in four fleets with three ILCA class rigs. There were 150 Australian and 30 international sailors from 12 countries competing.


Sailing was scheduled between 3rd and 8th January however on days 3 & 4 (5-6 January) with the wind at 27 gusting to 35 knots no sailing was possible . Two race per day were sailed on days 1 and 2 in very good conditions followed by three races on day 5 in testing 18-20 knot southerly winds while the final three races on day 6 were sailed in ideal 15 knot southerly conditions.


The 83 boat ILCA 6 gold fleet saw some great racing with the last race determining the top four places. These were contested between Tokyo 2020 Olympic Women's ILCA Laser sailors from Belgium, Switzerland, Hungary, and Australia. Emma Plaschaert from Belgium finished second in the final race to take a narrow win from Maud Jaynet (SUI) and Maria Erdi (HUN). Maria just pipped Queenslander Mara Stransky by a single point. Mara Stransky was the Australian Womens champion and the overall Australian Champion. Mara is the first female since Sarah Blanck in 2008 to win the open ILCA 6/Laser Radial title. Casey Imeneo from Victoria topped some consistent results with two wins on the last day to finish fifth overall.


The under 19 ILCA 6 division was won by Australian Sailing Youth Sailor of the Year and silver medallist in the World Sailing Youth Championships Evie Saunders from Manly Yacht Club in NSW.


The ILCA 7 fleet was hotly contested with four Australians, four from Great Britain and two from New Zealand finishing in the top ten.


In a drama packed final race Michael Beckett (GBR) needed to win to take the title after Australia's Matt Wearn had some issues and was a DNF. Michael finished second and so Matt Wearn won his fifth Australian Laser/ILCA Championship on a close countback. Elliot Hanson (GBR) was third in front of popular WA sailor Swifto Elliott and leading Kiwi George Gautrey.


The leading youth sailors (under 21) was Stefan Elliott-Shircore from Western Australia.


The ILCA 4 (aka Laser 4.7) fleet of 55 boats consisted of up-and-coming youth sailors under 18 and under 16 years of age. The first three placegetters were young sailors from Victoria. Aidan Simmons and Angus McIntyre both won four of the ten heats, with Aidan the overall ILCA 4 champion by two points. Riley Cantwell finished third overall and was the under 16 junior ILCA 4 champion. It was pleasing to see 40% of the ILCA 4 fleet were women and the first woman Sara Bruce from DBSC and RSYS was 4th overall.

 
Based on strong performances particularly in the ILCA 4 fleet the Battens Trophy for the best performed State went to Victoria. Victoria showed the benefit of strong state training programs and racing in ILCA 4 and the feed in junior classes, in particular the Optimist class.


Full results can be found Here and on mobile devices using the free Australian Laser App under the National & District Events tab.


The next ILCA class National & Oceania Championship will be for masters sailors at Port Stephens, Australia on 10-13 March 2023 were nearly 200 boats are expected to compete.


The next Oceania & Australian Open & Youth Championships will be at Adelaide Sailing Club 1-8 January 2024. There is a 4 minute promotion video for the 2024 Adelaide event and the following ILCA 7 and ILCA Masters World Championship events on YouTube Here.
Anyone who is or will be in New Zealand later this month may be interested in the NZL Nationals in Auckland. This year the nationals will be sailed at Murray's Bay Auckland 19-22 January. There are currently over 120 sailors entered including a record 60 ILCA 6s and with free entry for any first time ILCA nationals sailors more are expected.


Top NZL sailors and a number of highly ranked ILCA sailors from other Oceania nations will compete in all classes and age categories from youth to masters.


10 races are scheduled over the 4 days of the regatta, which will be preceded by a number of training camps, so Murrays Bay is going to be a busy venue for the next week. Final entries do not close until the start of the regatta so anyone still thinking about it should take the plunge. Race documents and online entries can be obtained on the NZLA web site Here.
After run of great weather including for the Practice Race and Race Days 1 & 2 Huey has turned on a nasty spell (5 & 6 January) of wet and excessively windy days so no safe, fair racing has been possible.


The women are dominating the ILCA 6s holding the top six places. With no racing on the third scheduled day of racing the ILCA 6 qualifying series is concluded and a drop is included to determine the split into the Gold and Silver fleets for the Final Series. Results for the Qualifying Series are Here.


There is just one point between the top four so it is all in play for once the weather allows the Final Series to proceed.


In the ILCA 7s team GBR has four of the top six places however Olympic Champion Matt Wearn is three points clear at the top. Racing has been very close and the series is still wide open. Results to Race 4 in the ILCA 7s are Here.


In the 55 boat ILCA 4 fleet Team Victoria of Aidan Simmons, Angus McIntyre and Riley Cantwell is dominating taking pretty much all the podium places in each race. Full results are Here.
Jon West has been braving the weather and his valuable equipment to capture some great action photos. You can view and purchase photos from the event Here.


Note that the photo albums are numbered from the Practice Race as Day 1.


Check Jon's photos on Instagram Here