Monthly Archives:
April 2023
The second of the 2023 Sailing World Cup events Semaine Olympique Française (French Olympic Week SOF) concluded in Hyères, France on 29 April.
There were 670 entries from 60 countries sailing in the 10 Olympic classes. The event web site is at https://sof.ffvoile.fr/
Casey Imeneo (McCYC & SSCBC) had a great series finishing third to Canada's Sarah Douglas and Dane Anne Marie Rindom. Mara Stransky won the medal race and finished 5th so great results for our ILCA 6 sailors.
The ILCA 7s were dominated by GBR's Elliott Hanson and Michael Beckett with Elliott grasping the gold with a win in the medal race. Matt Wearn was 4th behind Cypriot Pavlos Kontides.

The full results are Here.

The Sailing World Cup events are;
April 3-8 – Trofeo Princesa Sofia – Mallorca, Spain
April 24-29 – Semaine Olympique Française – Hyères, France
May 31-June 4 – Allianz Regatta – Almere, Netherlands
June 17-25 – Kieler Woche – Kiel, Germany
Finn Alexander (13th) Was On a Roll in the Early Windy Races

Applications are now open Here for the U21 World Championships 15-22 October at the Royal Yacht Club de Tangier Morocco.
Accommodation information is Here.
Total entry for this event is limited to 100 sailors in the Men's fleet and 60 in the Women's fleet.

For more information, see the Official Event Page.
Zoe pleased with her second place in La Palma
The Princesa Sofía Olympic classes Regatta kicked on last week after a slow start on Bay of Palma Mallorca. This is the first Sailing World Cup of 2023's four regattas along with the Allianz Regatta (The Netherlands), the Semaine Olympique Française (Hyères, France) and Kieler Woche (Kiel, Germany).
All the top level Olympic sailors were competing with 15 months to the big event in Marseilles.
At the top of the hot ILCA 6 fleet new mum Marit Bouwmeester NED who is looking for a fourth Olympic medal after gold in Rio 2016, silver in London 2012 and bronze in Tokyo 2021 showed the way with consistent performances to win before the medal race was sailed. WA's Zoe Thompson had a great series and a second in the medal race for second overall from the number two Netherlands sailor Maxime Jonker.
The ILCA 7s proved to be a walk in the park or a cruise on the bay for Mick Beckett GBR who won with a race to spare after a very consistent series. While daylight was second it was all very close after that with New Zealand's George Gautrey finished next a point ahead of  Croatian Tonci Stipanovic.   Tom Saunders NZL was 5th and the best Australian Matt Wearn who finished second in the event last year was 7th.
The event web site is Here.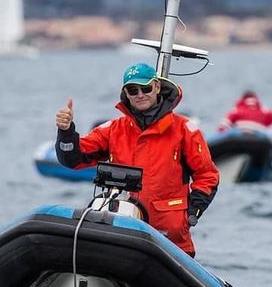 Australian Sailing has launched the "NEXTLEVEL" coaching program for year 2, aimed at further empowering coaches to become advanced coaches and enhance the quality of coaching in the Olympic and pathway classes.
This is a great opportunity for coaches to develop their skills further and contribute to the development of high-quality coaching.
Coaches selected for the "NEXTLEVEL" program will be required to attend a face-to-face workshop in Brisbane from May 8-10, 2023, and the Advance Workshop from May 22-24 in Adelaide. AS will arrange for travel and accommodation for the selected coaches.
If coaches are interested in being considered for the program, they should register Here by close of business April 20.
Swifto Elliott in action Princesa Sophia Regatta 2023
We have updated the list on the Events Tab of this web site to show 2023-24 international, regional, national and significant district events.
We have posted links to the definitive web site for the event so this should be your first port of call for information, entry and results.
We run some big events on our side of the equator but nothing holds a candle to Youth Worlds held in Europe. The photo above is not sardines in a tin but ILCAs in the boat park at the ILCA 4 World Youth Championships 2022 in Vilamoura, Portugal. There were 440 ILCAs and 150 coach boats – feel free to count them.
This year for the ILCA 4 Youth Worlds in Volos, Greece the entry limit is 400 (260 male and 140 female) and it is already nearing full. The entry limit for the 2023 ILCA 6 Youth Worlds in Dziwnow, Poland is 360 (260 male and 100 female) it too is nearing full.
All the information on all ILCA World Championship events is on the ILCA web site Here. We have updated the Events tab on this web site to list all the world, regional, national and major district events for 2023-24. This list has links to the definitive web site for each event so go to the lined site for up to date information.
If you want to get an idea of the trials and tribulations of being a top level sailor and a coach travelling the world circuit have a look at Australian Sailing Squad member and Youth Coach Swifto Elliot's blog Here.