Monthly Archives:
July 2023

Photo of team AUS for ILCA 4 Youth Worlds at Volos

The ILCA 4 Youth World Championships have just concluded in Volos Greece.

There were 437 total competitors including 3 girls and 10 boys from Australia. The Australian team was guided by Australian Sailing Qualified Coach – Tasmanian, Rohan Langford.

ILCA Australia Youth Director Don Elks did his usual great job organising the ILCA 4 Youth Worlds Team and said he was very proud to of this young team's performance.

Don said "Everyone got to the top of their respective fleets in light conditions including hot temperature and bushfires. ILCA 4s are back in the gold fleet. Anneke Meyer finished 6th U16, Aidan Simmons 23rd and Tom Fader 50th.

Special thanks to coach Rohan Langford and to parents for support of the team."



The ILCA 6 Women's Open World Championships 3-10 January and ILCA 6 Men's Worlds 12-19 January in Mar del Plata, Argentina entry applications are now open. The ranking event for these championships is the 2023 Oceania & Australian Open & Youth Championships Georges River.

Entries for the ILCA 7 Men's Worlds 24-31 January in Adelaide will open on 2 August. Their ranking event will also be 2023 O&A Open & Youth Championship.

Applications for entry for the 2024 World Masters (ILCA 6 and 7) 2-10 February in Adelaide will also open on 2 August. Its ranking event is the 2023 Australian Masters Championships Port Stephens.

Sailors who wish to apply for entry and who did not compete in the ranking event for these (and any) ILCA World Championship will be ranked after all the sailors who did sail in the ranking event and in the order in which they apply for entry.

Entry offers will be made by ILCA in the order of ranking however we are hopeful of gaining sufficient places for all Masters who want to compete in Adelaide.

The ILCA World Championships web site pages with all the information and application links are Here.
The 2023 Pacific Games will take place in the Solomon Islands from the 19 November to 2 December 2023. Over 5,000 athletes are expected to attend the games. Australia is sending 115 athletes from 24 sports that includes sailing.

The sailing team will be made up of:
| | | |
| --- | --- | --- |
|  Class |  Gender | Number of Sailors |
| ILCA 7 |   Male | 2 |
| ILCA 6 |   Female | 2 |
| Windsurfer LT (Heavyweight 79   kilograms and over) |   Male | 1 |
| Windsurfer LT (lightweight under 79 kilograms) |   Male | 1 |
| Windsurfer LT |   Female | 2 |

Australia Sailing with the AOC, is sending a team of eight athletes and two coaching staff members. The 2023 Pacific Games is funded by the AOC which covers airfares, coaches and some of the uniform, but interested parties should note that there may be other expenses the selected athletes may need to cover.

If you are interested in representing and competing for Australia at the 2023 Pacific Games please view 2023 Pacific Games Nomination and Selection Criteria and register your interest by applying Here.

The event Notice of Race is Here and the Official Website is Here.

Australian Sailing will select and send two coaching staff to support the eight athlete team for these games. For information on coach selection please see the Coaching Staff Nomination Selection Criteria  and if interested please register at Coaching Staff Online Registration.

The deadline for submitting interest is 11 August. Following the closure of the EOI process, the team announcement, in collaboration with the Australian Olympic Committee (AOC), will be made by the end of August.

For more information regarding the event or EOI please contact lesley.fasala@sailing.org.au.
ILCA has introduced the OSEPODS (Off-the-Shelf, Equal-Performance, One-Design Sailboat) concept which encompasses the core values that have made ILCA the world's most popular youth and adult sailing class, ensuring fairness, accessibility, and a focus on skill and strategy.

The OSEPODS concept ensures that ILCA sailors compete on a level playing field where success is determined by skill rather than boat modifications.

At the heart of OSEPODS is the principle that ILCA sailboats are readily available and ready to race "off the shelf." When a sailor purchases an ILCA boat, there is no need for modifications or "hot rodding" to make it competitive. This accessibility means that sailors at all levels, from Olympic athletes to masters to youth and club racers, have access to the same equipment.

All ILCA dinghies are manufactured to the same high standards. There are no custom-designed or made-to-order ILCA dinghies, so a boat from one ILCA builder will be identical to boats from any ILCA builder. Whether you're a seasoned competitor or a newcomer to the sport, ILCA provides a level playing field where success is determined by skill rather than boat modifications.

Find out more about OSEPODS and the seven person ILCA technical team driving it in the ILCA web post Here.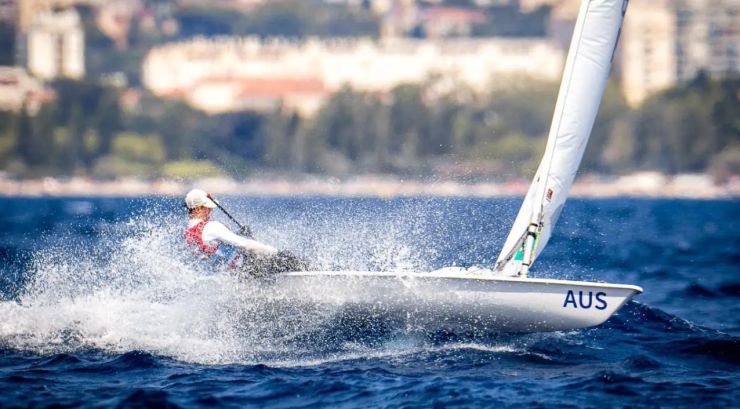 Matt Wearn was the best of the Australian Sailing Team (AST) in the Olympic Test Event just concluded in Marseilles. Matt won the ILCA 7 (Olympic Men's Dinghy) event with a second place in the medal race.

After the win Matt Wearn said, "It feels great. It has been a while since I stepped on to the top step of the podium so it's nice to get it done here. Obviously, a great confidence boost for 12-months' time, as well. It's the first win with Rafa (new coach Rafael Trujillo Villar) too, so I think for the both of us it cements the work we have been doing together."

The event aims to test the organisation and officials as well as allowing the sailors (one crew per invited country) to test themselves against the best Olympic class sailors.

Of the whole team performance AST High Performance Director, Iain Brambell said, "The Test Event has been a highly successful venture, as it saw five of nine Australian entries competing in their Medal Series/Races.

Full results are Here.

Of the AST's Olympic preparations Iain said "Although we are unable to continue to directly utilise the Olympic venue in Marseilles as it houses the newly built French National Sailing Centre, our athletes will relocate two kilometres South to our mobile base at the Yachting Club Pointe Rouge. Here the team will continue to maintain their intricate exploration and connection to the waters and weather patterns of Marseille in the lead-up to the Paris Games."

Iain Brambell concluded "This regatta has been an excellent practice run for next year's Games, as well as a great litmus test for the entire team preparing for the 2023 Sailing World Championships (The Hague, Netherlands 11-20 August 2023).  The Worlds will see nearly fifty Australians competing across all ten Olympic Classes, all of whom have high hopes of confirming nation qualification spots for the 2024 Paris Olympics".

The Queensland Laser Association's South Pacific Laser Masters is always a great event. This year was no exception with the event run 7-10 July attracting 57 entries including visiting sailors from NZ, Vic, NSW and Samoa. The sailors all enjoyed the great sailing water at Morton Bay and the fabulous facilities of the RQYS at Manly.

Conditions were typical for a winter regatta with crisp sunny winter skies. Day 1 Friday opened with a bang as a fresh westerly gusting to 27 knots provided exhilarating rides downwind and significant damage to numerous boats and a number of skippers.

Lighter and more challenging conditions followed on Saturday while Sunday provided near-perfect sailing conditions with a variable 10 to 15 knot westerly. Monday dawned with clear blue skies and a light westerly that faded to a picturesque glass out.

The ILCA 6 fleet of 37 boats was of very high quality with three world masters champions competing. Nevertheless it was dominated by RQYS Apprentice Ben Franklin who had a clean scorecard apart from a start line indiscretion costing him maximum points.
It was a very close battle behind Ben for the next three places. In the end it was current World GGM Champion Jeff Loosemore from MHASC Sydney in second overall and only one point ahead of BSS coach Dan Blight.

In the 18 boat ILCA 7 fleet local RQYS GM Andrew Stransky claimed a narrow win over highly ranked Master Matt Faddy VYC NSW followed by QLA president Michael Wilson who was the 1st GGM.

Regatta sponsors NB Sailsports continued their generous support and all competitors were in with a chance to win some of the over $1500 worth of ICA gear including a new sail and other ILCA gear.

The full write up of the event is Here and all the results are Here.

There is some good footage of Day 1 sailing on the YouTube video Here.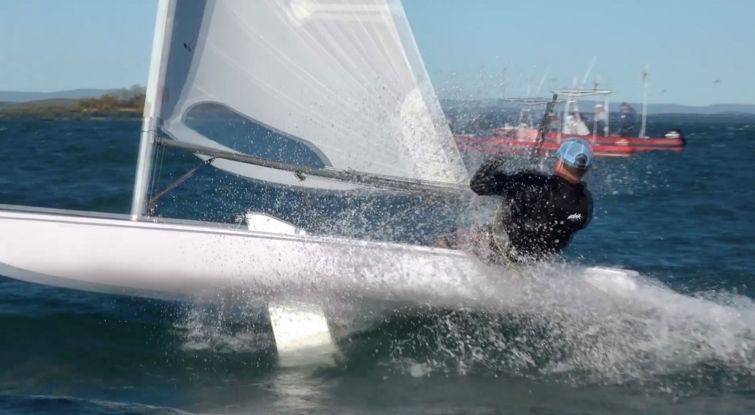 Planning a trip to New Caledonia then you may be interested in the following invitation from Société des Régates Calédoniennes in Nouméa, Nouvelle-Calédonie.

We organize a regatta, the "Ludik Cup" 9th – 13th October 2023 for Optimist and Laser with Locals, New-Zealanders and Tahitians. We have boats and equipment for visitors.

We would like to invite Australian people to come.


Team AUS at ILCA 6 Youth Worlds – Photo Marek Wilczek

Twelve Australians competed in the ILCA 6 Men's and Women's Youth and the ILCA 6 Open Men's World Championships 1-9 July in Dziwnow Poland. There were 374 all up in the three events with the majority (259) in the Men's Youth Championship.

Team AUS had some great learning and with three in the Gold Fleet in the huge Youth Men's event had some solid results.

Coach Rhett Gowans takes up the commentary from the finals series (day 4) below.

"Due to lack of wind, day four was a write-off. We waited ashore for a light breeze to fill in, but it never eventuated. This gave the team a further opportunity to gel as a group.

Day five brought a light 5-10knot N-NE. As we missed the first day of finals, they planned on running 6 races over the next two days. Over the last two days of the regatta, as the wind got lighter, the current greatly impacted the racecourse, making it difficult to get off the line cleanly. In the Aussie fleet, big learnings were taken especially start line approach & how pivotal correctly timed trigger pulls are in a big, competitive fleet.

Angus McIntyre added to the tally of wins, winning Race 7 in Emerald Fleet while Ed Reid and Pat Cummin had top results in their first races of the day.

Day six was the penultimate day of racing, three more races were scheduled. Similar to day five, the breeze was out of the N-NE, around 5-7knots for the most part. Angus chalked up another great day, with a 2, 13, 16 to take out Emerald fleet. Xavier Bates & Marcus Sampson had great first race results. Pat & Lucas James ended the regatta strongly with improvement in Race 12. Hamish Gilsenan & Ed Reid had strong, consistent races in the Gold Fleet, with Ed being the Aussies highest placed finisher in 22nd overall.

Lili McAullay and Frances Beebe finished a few points apart in 46 and 47 in the 100 Women's Youth event and they and Stewart Gifford and Myles Wilson all had great regattas, experiencing how to get off tight start lines & manage big fleets.

Best of luck to Stewart, Xavier & Frances in Gdynia, Poland for the Euros.

A big thank you to all the parents, sailors, team manager – Leigh Cummin, coach Annie Eastgate, ILCA Australia youth rep and organiser Don Elks and the ILCA and Australian Sailing for making it all possible."